About Streaming SG
An Industrial Revolution | Events+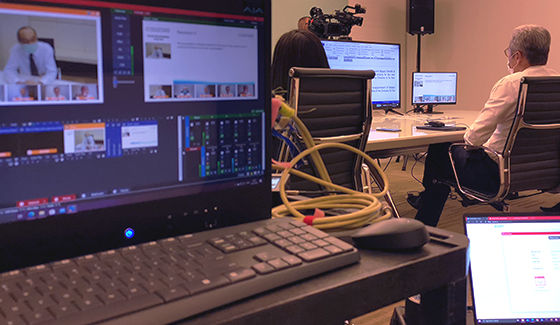 Having kept up with the digital live streaming technologies since 2010, we offer our clients not just our knowledge on running LIVE events, but our experience and the ability to take traditionally offline experiences, online.

Digital streaming technologies aren't a crisis specific solution and has tremendous potential to add alternate revenue streams while keeping costs lower than traditional means of conducting events.
Streaming SG was established by pioneers in the consumer LIVE streaming scene in Singapore coming together to collaborate in a time of unprecedented crisis to aid companies in their digital transformation work, particularly where media technology is needed to be deployed quickly, efficiently and inexpensively.
Digital Transformation also means that the Events Industry has had to undergo a revolution to create more efficient ways of achieving your objectives while maximising your reach globally. Streaming SG is here to stay even post-pandemic because Events as we know it, has given way to an "Events+" era.
Services
Updated Solutions for a New Era | Events+
Take traditionally offline events online and learn how the new normal isn't just about making do when we cannot do things the way we are used to, but about changing our very ideas of how events can be run.
Whether it is running your online conference, an international webinar with speakers and audience from all over the world, an online meeting with your stakeholders, a townhall event or any online event, let us help from the planning stage to its successful execution with the combined experience of our project managers in running both offline and online events over the last 20 years.
Online Events allow you to reach out to a wider audience across borders and cultures, and in today's world, greater reach means you can push your brand values further than before and add new revenue streams while you are doing that.
Read more about our team's experience and contact us for a quick chat.
LIVE Streaming is IN and trending, and with that comes many new businesses that offer these services. So what sets us apart from the competition?
Firstly, we are not just a group of engineers adept at technology or events and media people pivoting into the live streaming space because the money is here.
While simply live streaming makes going to market easier, our attention to detail means taking time to understand your objectives, collaborate with you, and devise customised and creative solutions to achieve those objectives.
With over 20 years of experience in the events space, and with the benefit of being amongst the pioneers of live streaming in Singapore, our project managers are able not only to execute the project, but also to identify possible complexities, discuss them with you and come up with steps to pre-empt these problems. With Streaming SG, you know the utmost care has been taken to ensure your event runs successfully.
Don't just take it from us - take it from these clients who have benefitted from our work.
Our Live Streams are only as good as we allow them to be. It's not enough to just go online. It must add value to your organisation, be it in terms of brand image, or even, revenue generation.
There are a large variety of software like Zoom and MS Teams in the market that do some amazing things that we never knew we would be doing on a daily basis today. With the user intuitiveness programmed into these software, we've come to accept the trade-off by reducing our expectations of how our brands should be portrayed.
Streaming SG appreciates the learning curve that has gone into using these new means of communication and understand that it's not going to be easy to re-introduce another way of connecting.
To keep things as they are, but only better, requires thoughtful content design to transform your Zoom Webinars, into a "Zoom+"" experience or your MS Teams Live Events into a "MS Teams+"" experience, with the end goal in preserving, and even advancing your brand image and values using tools you are already familiar with.
Read more about how we do this here.
There's no question that video content ranks high on digital and social media ranking. But with the competition so keen, novelty and creativity is premium.
Professionally and tastefully produced videos can build up to your Live Events, offer context or provide extra dimensions to cater for some of the inherent limits real-time events have. While it is tempting to say that we can do everything LIVE, and we can do just about everything with Live Green Screen Events, we acknowledge that sometimes, more work needs to be done over periods of time.
In our hands, you can rest assured that these requirements will be met with utmost care and dedication.
Furthermore, our system allows you to record the entire proceedings of your Live Events in Full HD or up to 4K which, in turn, means high quality video that you could repurpose should the need arise.
Clients & Projects
Some of the Recent Projects we've worked on:
The above clients & projects represent a fraction of the close to 100 Live Events we conducted in 2020 alone, either as the Live Event Manager or as a Streaming Partner in collaboration with our friends from Event Organisations and Creative Agencies. We also conducted some Virtual AGMs for Condominium MCSTs in addition to events described in the list above. You can take a look at a sample template of our MCST AGM here using the username "testuser" and password "1qa2ws3ed"
Features
Professional Grade Live Production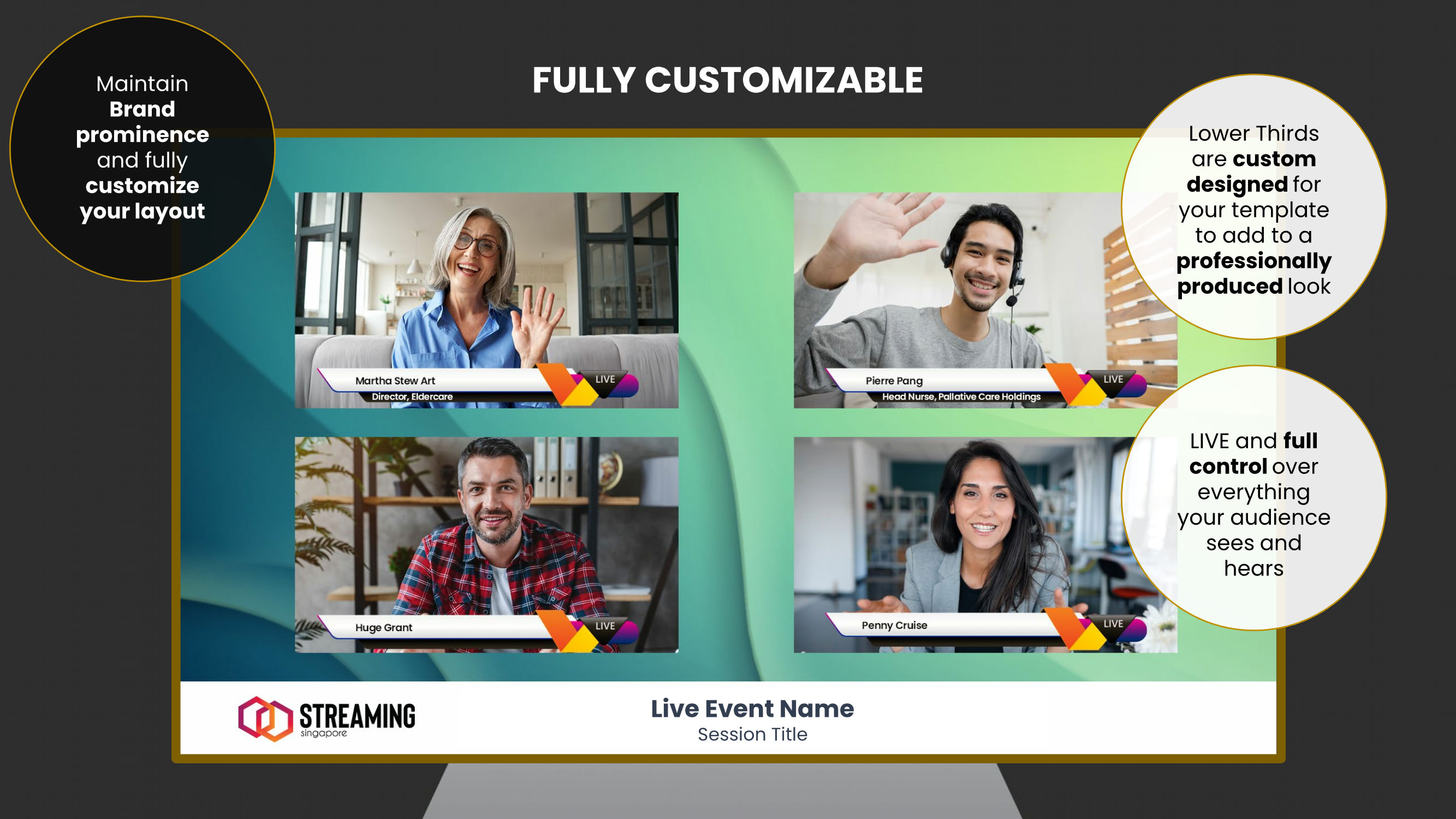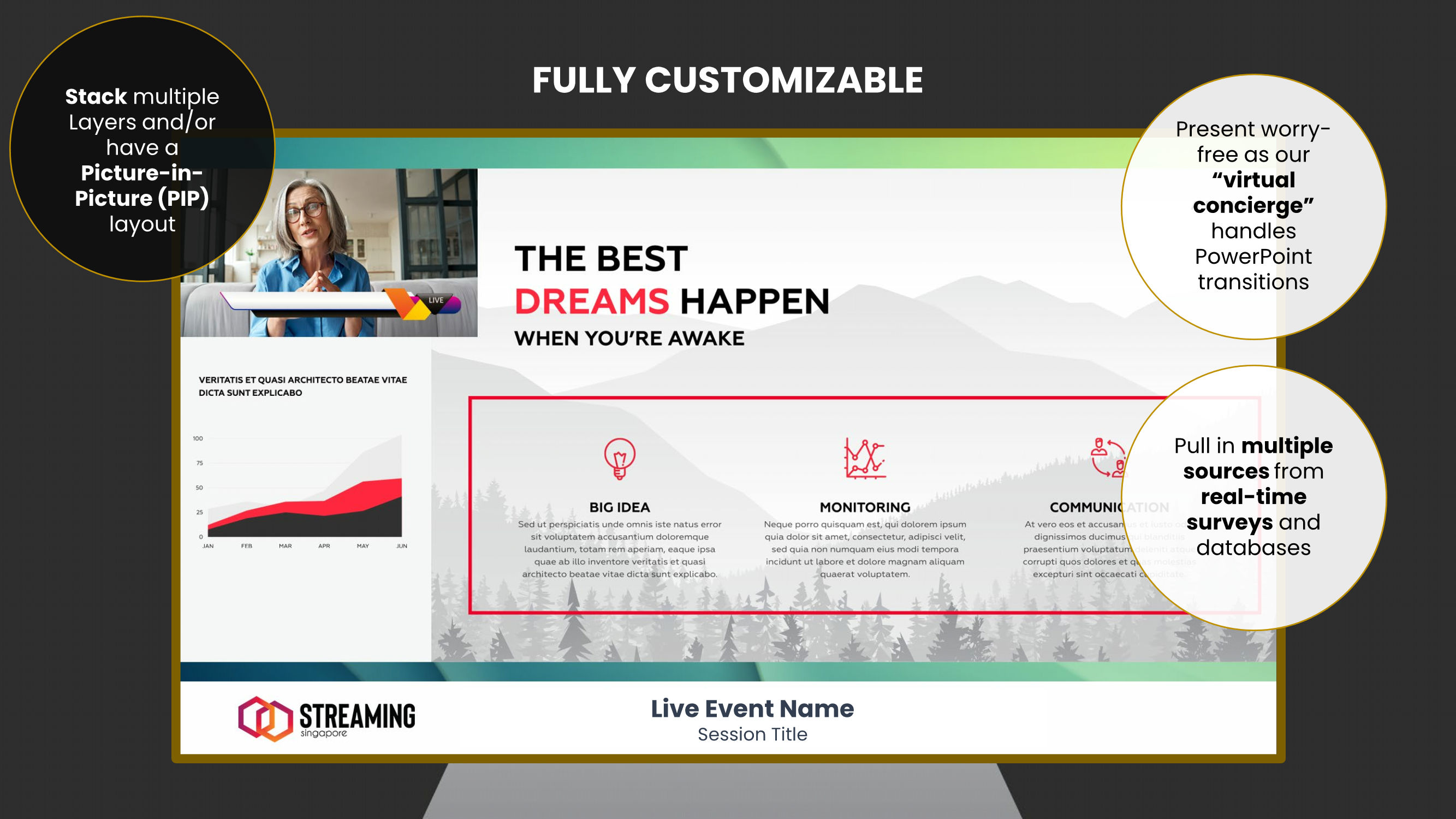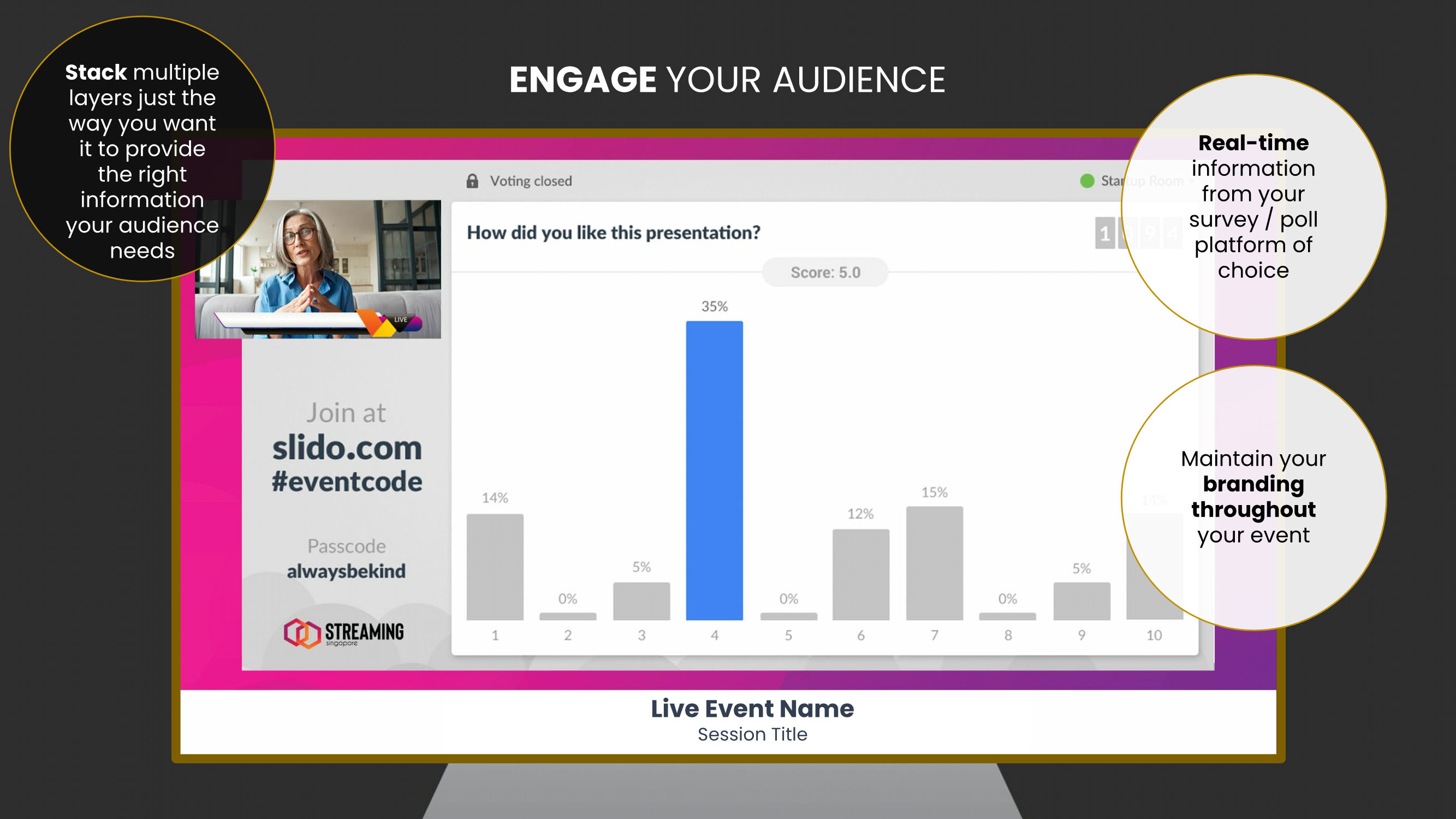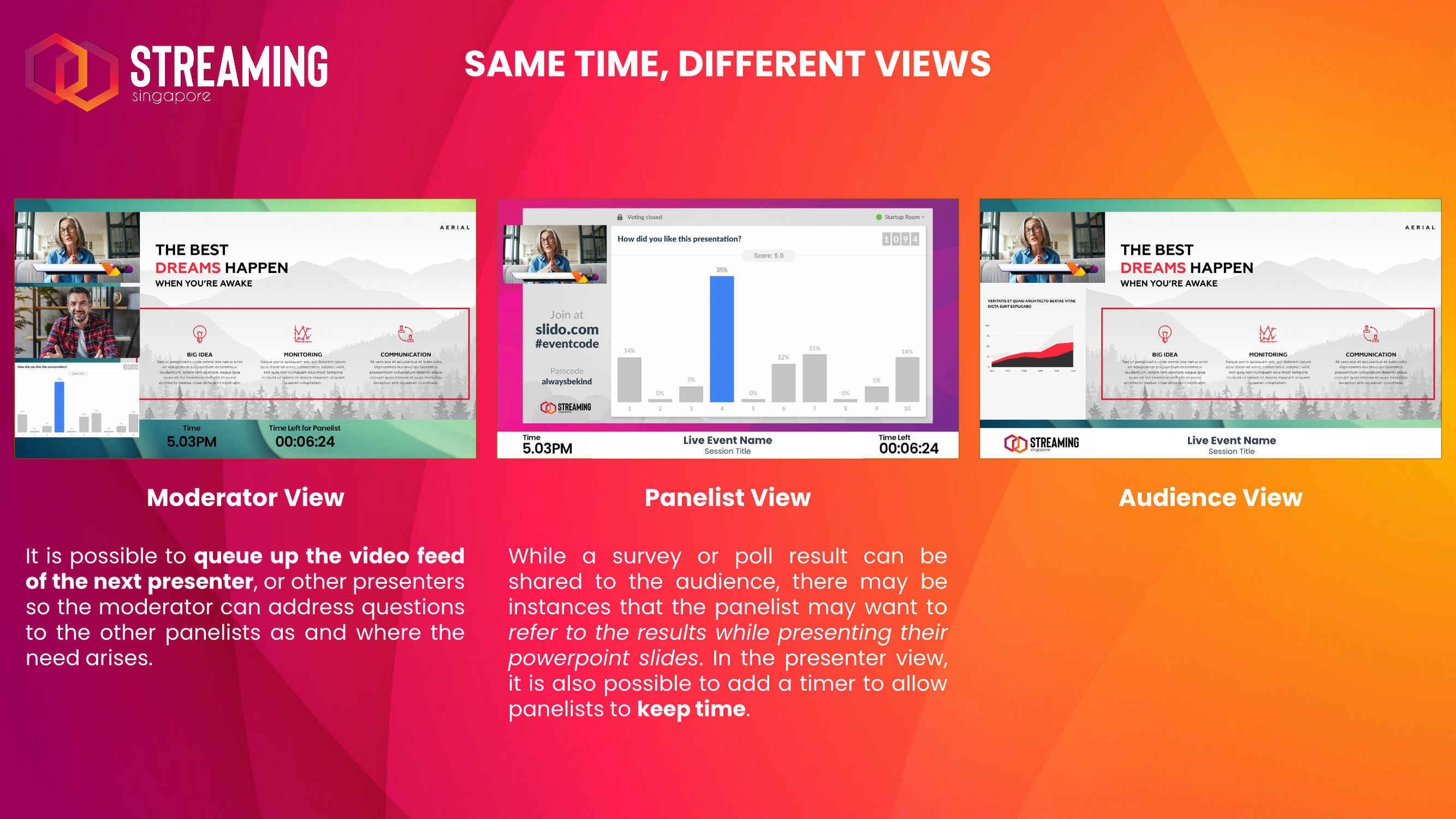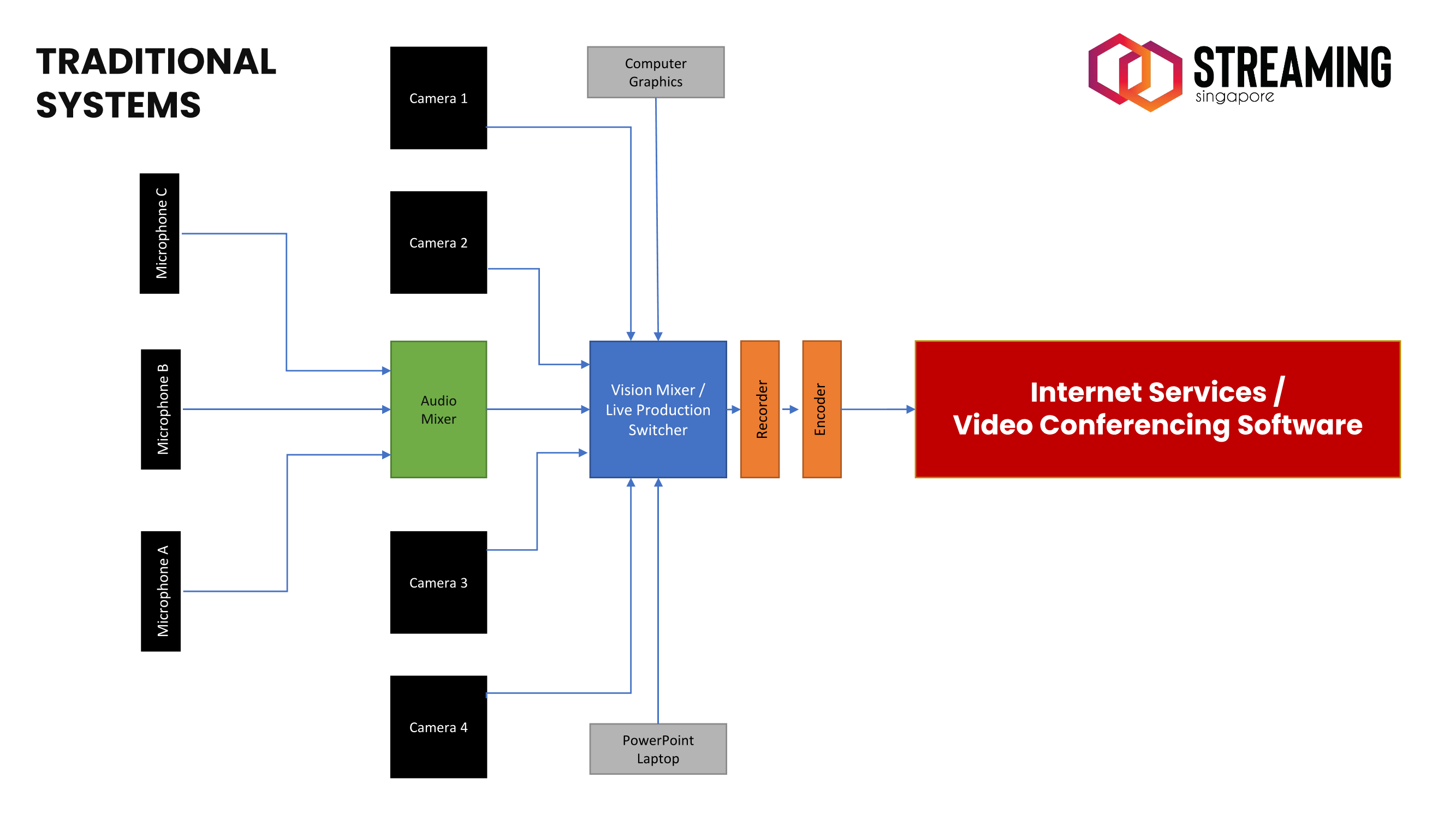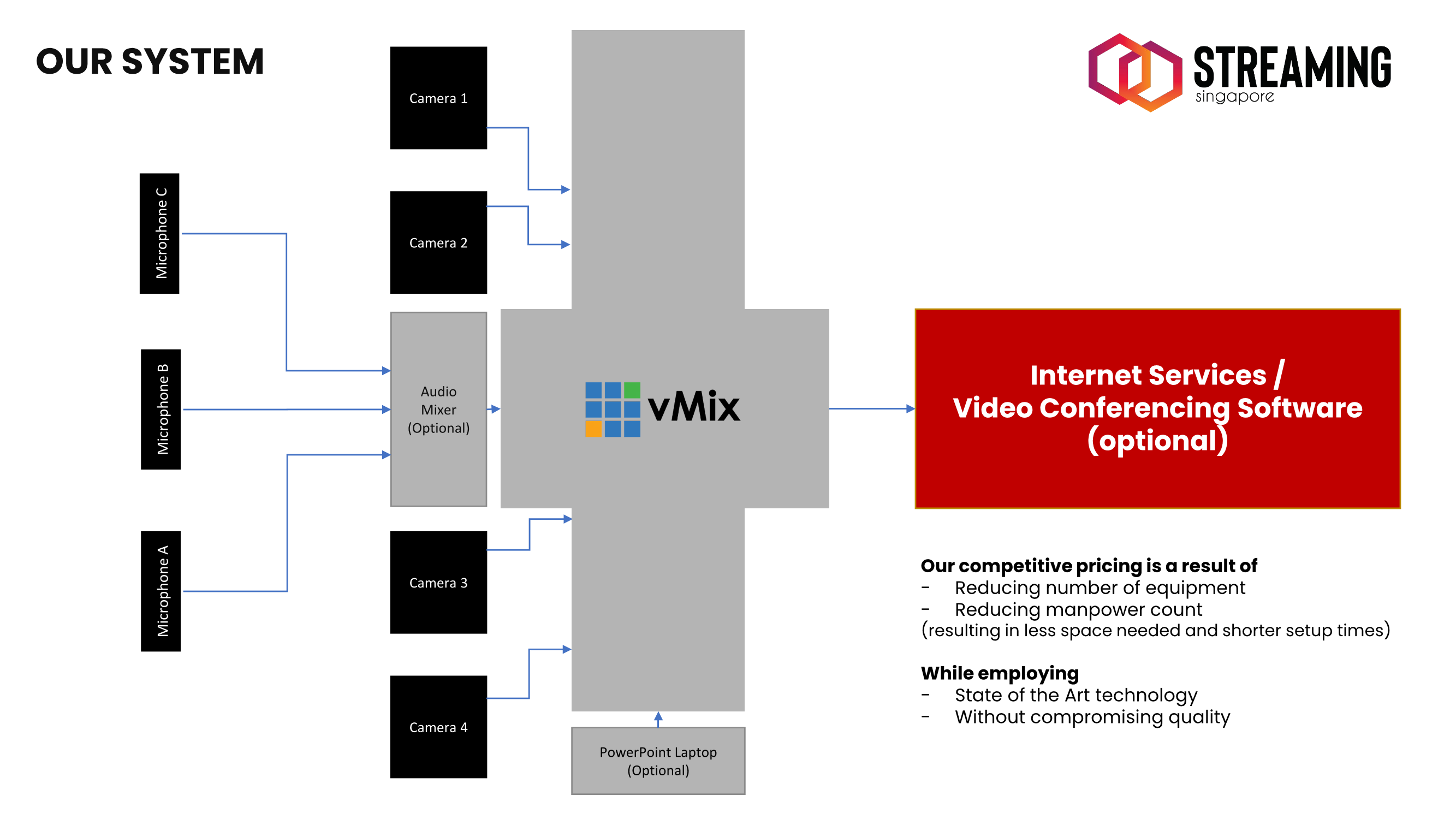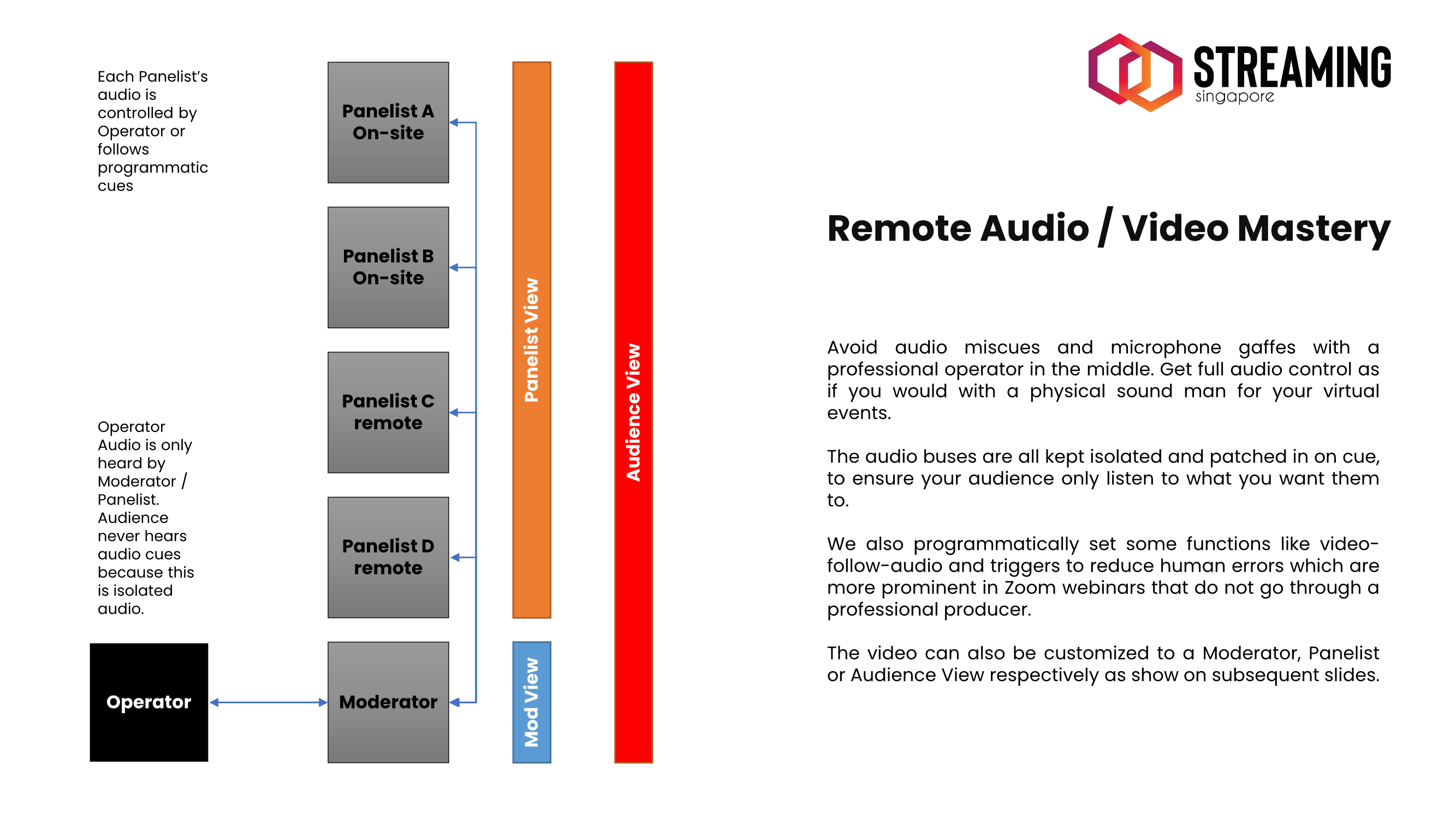 Contact Us
Streaming SG Pte Ltd (UEN: 202032246C)
7030 Ang Mo Kio Avenue 5
#08-94 Northstar@AMK
Singapore 569880

T: 87533758
E: admin@streaming.sg